MADE IN CHIANG MAI — CMS,
the onlylocal manufacture of solar panels!
Chiang Mai Solar installing complete key turn systems. We install all kind of residential and commercial solar PV systems, Off-Grid, On-Grid and Hybrid as well as Energy Storage Systems (ESS).

Chiang Mai Solar is further a specialist manufacturer and distributor of Solar Water Heating Systems based on absorber plates which convert solar radiation directly into hot water for domestic and commercial use. Our product range provides long term green energy hot water at minimal running cost, and great environmental benefit.
Located in Chiang Mai, the Oelmaier Technology company was founded by its Managing Director Mr. Uwe Konrad. The long established solar energy company has been providing a range of energy efficient solutions for applications ranging from Photovoltaic systems to domestic solar water heating and pool solar heating systems.

Developing Solar Water Heaters. As well as developing applications for Photovoltaic systems, Mr. Uwe also developed state of the art Solar Water Heating systems, using best practice fabrication in Chiang Mai in conjunction with his German engineering skills to produce high efficient absorber panels of a top quality made from copper. Demand for these products and their installation reached a level where it justified investment in new manufacturing capacity and a focused marketing service throughout northern Thailand, leading to the formation of Chiang Mai Solar.
Uwe Konrad heads now a team of specialist manufacturing engineers, sales, distribution and installation staff. Chiang Mai Solar has emerged as the leading specialist for Solar Solution Provider in the region which integrates customer requirement analysis with fabrication, distribution, installation and after sales service.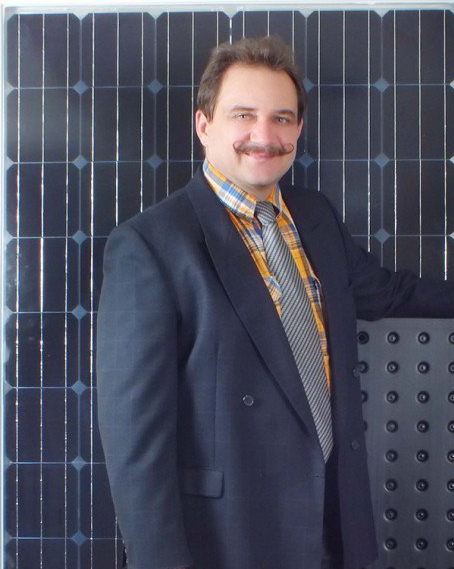 Mr. Uwe Konrad
(Engineer in Power Electronics)
has been involved in the Solar Energy Industry since 1997, giving him more than 23 years extensive experience.
As Foreign Affairs Manager at the Chiang Mai Technical and Commercial College (CM-Tech), he not only set up several international academic co-operations, he also designed and produced light weight photo voltaic (PV) solar modules to be used on a 3-wheeled, environmentally sensible, solar vehicle powered by solar cell generated electricity, as CM-Tech's research program for a vehicle suitable for solar racing.
Develop a high-speed vehicle for CM-Tech.
In the following years Mr. Uwe realized numerous academic and technical projects, ranging from teacher training to international bachelor degree programs with British and German Universities including the design and development of a 2-seater sports car prototype.
Within the staff qualification program of the German University of Applied Sciences of Wiesbaden (Fachhochschule Wiesbaden) at CM-Tech, Mr. Uwe meet the famous Prof Dietrich Dahlinger the inventor of the "transformer less inverter" which is now the a worldwide standard technology to feed electricity from Solar and Wind into public utility power grids.
Based on this friendship and the good relations with Prof Dahlinger, Mr Uwe was licensed and encouraged to forward the technological know-how for the "transformer less inverter" to his business partner (within the ARC Co., Ltd.) Mr Wolfgang Oelmaier of Oelmaier Industrie Elektronik GmbH in Germany, now Oelmaier Group, for further development and finally the production of the PAC Inverter series.
In 2004, Mr Uwe established the first small scale production of Solar Water Heaters in Chiang Mai and this enterprise has now grown and developed into the present Chiang Mai Solar, which is now offering a full range of solar solutions, solar thermal and photovoltaic, to improve the world and it's environment, and to stop the climate change.